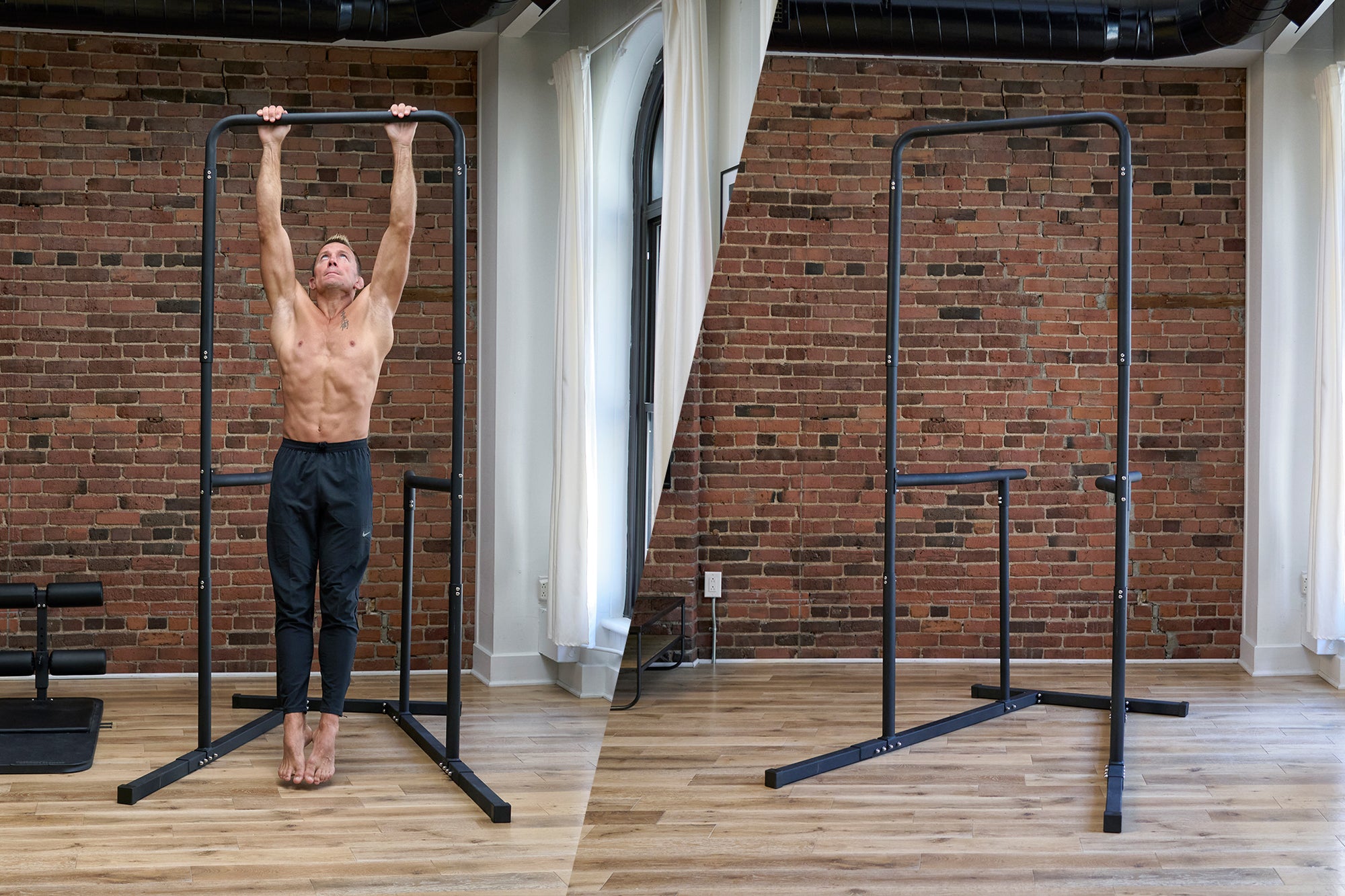 THE BIG BAR PRO
$395.00
Compare to Big Bar
Meet the Big Bar Pro, our hybrid pull-up bar and dip bars, co-designed by Georges St-Pierre. The pull-up bar is 89" high with no cross-bar to restrict your movement. The dip bars have a parallel and angled section allowing you to mix your grips when performing dips and rows. Outdoor friendly.
The Big Bar Pro is a pre-order in Canada. Orders are scheduled to ship on January 15, 2024. Cancel anytime before the shipping date
This item is outdoor friendly
Assembly time: approx. 15mins
Compatibility: Ring-friendly (when straps hang vertically) and band-friendly
Total footprint of the base: 59.4" x 46"
Base (on the side of the dip bars): 37"
Width of the open section of the base: 46"
Bar width: 34.5"
Max loading capacity: 660lbs.
Pull-up bar height: 89"
Pull-up bar width: 34"
Pull-up bar diameter: 1.5"
Height of the dip bars: 38.6"

Parallel dip bar width: 17.5"
Angled dip bars: 63°
Angled dip bar diameter: 2"
Material: powder-coated steel
Product weight: 50lbs.
This item is currently not available in Canada. To place a pre-order, please contact hello@baseblocks.fit
Free shipping for all US orders and Canadian orders.
Please note: we do not ship to Hawaii, Alaska, Puerto Rico, Guam, U.S. Virgin Islands, Military APO/FPO addresses, or P.O. Boxes.
For international enquiries, please email hello@baseblocks.fit your delivery address for a shipping quote.
You can return the item within 100-days of receiving your order for a refund less the cost of return shipping.
It rarely happens, but if there's anything wrong with the functional elements of the equipment, we'll fix it for free. Read about our Warranty and Return Policy here.
THE PULL-UP BAR
Our tallest pull-up bar with no cross bar to restrict your movement (89" high and 34" wide). Designed for our tallest users to perform dead hang pull-ups, levers and German hangs. Ring friendly.
MORE THAN DIP BARS
Designed for L-sits, rows, levers, and dips. Angled and parallel sections allowing you to mix up your grips and hit your muscles different. Thick diameter (2") for comfort.
WEATHER
RESISTANT
Suitable for outdoor use
RING
FRIENDLY
No crossbar to restrict movement