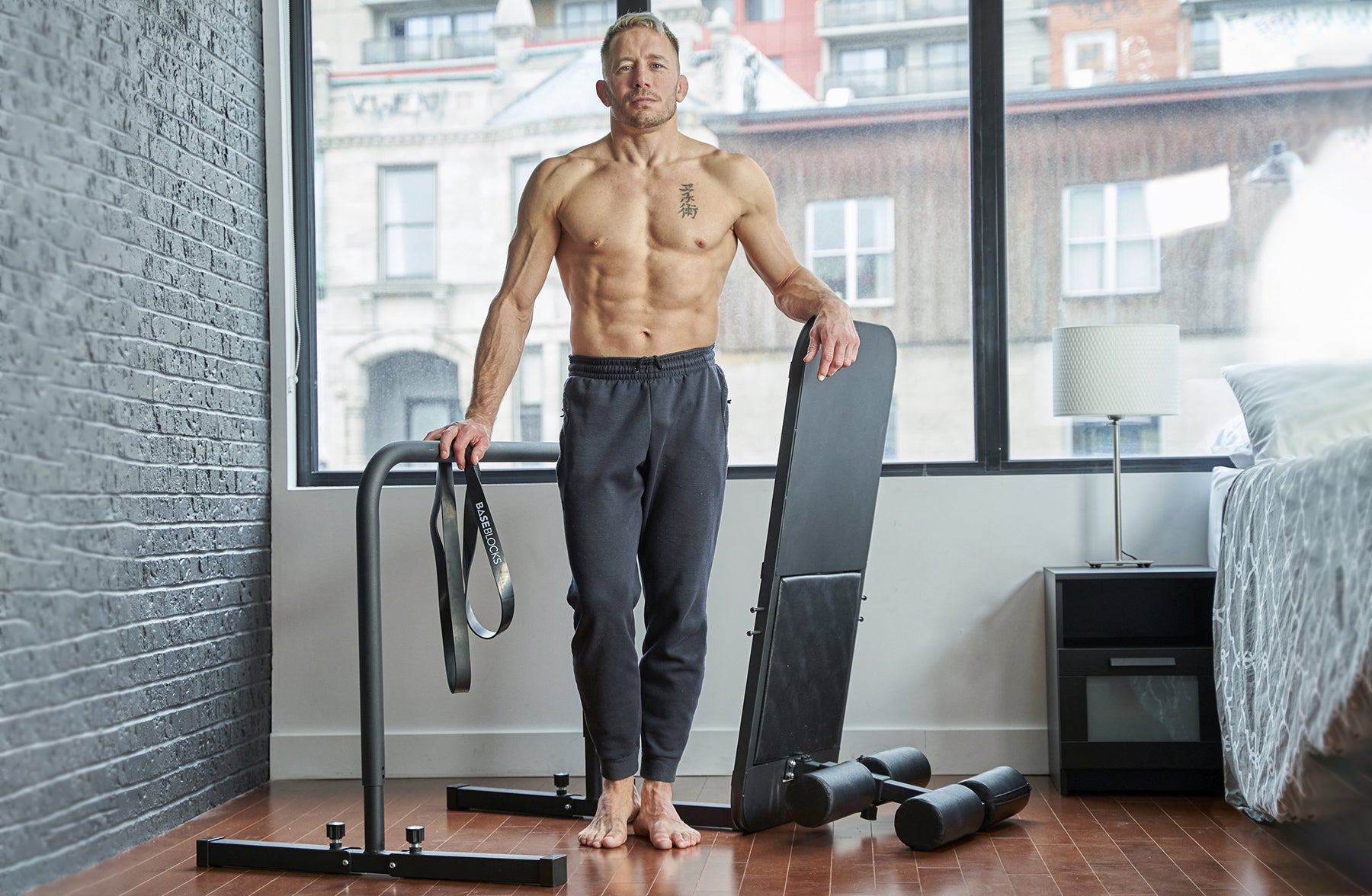 THE PRO SET
$525.00
---
Train like a champion. Get all the equipment in the Georges St-Pierre collection in a single set. Build a strong back with the BaseBar Pro, develop an explosive lower body with the BaseBench Pro, and get core strength with the StrongBlocks Pro.
Recommended experience level: beginner to advanced users
Space requirements: You need the space of a yoga mat. Suitable for apartment living
Price: save $22 by purchasing these items as a set
The BaseBar Pro
The BaseBench Pro
The StrongBlocks Pro
BaseBlocks Digital: 90-days access

Assembly time: setup and pack away in approx. three minutes
Floorspace: 88.5cm x 85cm (about the area size of a single seat sofa)
Storage dimensions: 5cm x 110cm (slides under the bed or stores behind your door)
Bar width: 88.5cm
Max loading capacity: 300kg
Height: 84cm and 132cm
Width: 88.5cm
Material: powder coated steel
Product weight: 10kg
Assembly time: setup in approx. 3 minutes
Floorspace: 120cm x 48cm (about the area of a yoga mat)
Storage: packed away as is – does not fold
Top pad height: 48cm
Bottom pad height: 7.5cm – 23cm (2.5cm increments)
*Bands not included
Max loading capacity: 150kg
Foam pad diameter: 10cm
Material: powder coated steel + PU leather
Product weight: 10kg
Assembly time: setup in approx. 5 minutes
Storage: 22 x 16 x 14cm for two pieces (about the size of a shoe box)
Height of parallettes: 14.5cm
Angle of handles: 10 degrees
Max loading capacity: 100kg
Material: EVA foam base and PVC handles
Product weight: 1kg
We cover all shipping costs in Australia. Our fulfillment centre is based in Altona, Victoria. Our average fulfilment time is five business days.
Due to the packaging dimensions, we ship each product separately. Please allow a 1-3 day period for your items to arrive.
Please note: due to supply chain disruptions, the StrongBlocks Pro is currently out of stock. This item will ship when our next batch of units arrives mid-October. You will have the option post-purchase to exchange this item for the original StrongBlocks for a partial rebate.
You can return the item within 100-days of receiving your order for a refund less the cost of return shipping.
It rarely happens, but if there's anything wrong with the functional elements of the equipment, we'll fix it for free. Read about our Warranty and Return Policy here.
ACTIVATE YOUR ATHLETE
Perform exercises that you never knew existed. Start with the basics and progress to advanced exercises as you get stronger.
DESIGNED FOR HOME
Transform your living room into a calisthenics gym. Perform full-body strength workouts without weights.
Get 90-days of exclusive access to calisthenics and mobility programs from world-class trainers. Programs for every calisthenics skill. Entry level programs for complete beginners.
BROWSE PROGRAMS
100-DAY GUARANTEE.
FREE SHIPPING.
LIFETIME WARRANTY.
We want you to love our products. If you buy one and decide it's not for you, return it for a full refund.
Conditions apply. Learn more